How to Get Started With
Multimedia in Your Classroom
Join NYSCATE Corporate Council member WeVideo for this engaging hour-long webinar on how to better utilize multimedia in your classroom.
Learn the benefits to students and how to transform learning experiences in your classroom by utilizing powerful multimedia tools. Using pedagogical practices from the multiliteracies framework, participants will learn how multimodal activities can help amplify student voice, cultivate identity and foster agency, and deepen learning for all. See student-created examples of these practices in action, gain access to resources to support your instruction, and see how multimedia can be used as a teaching and learning tool for your learning environment and your students.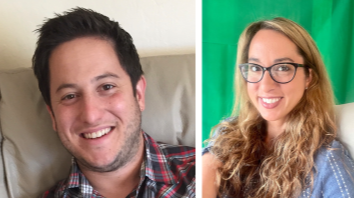 Join Ryan Kochevar and Kari Smith of WeVideo as we learn curricular ideas to integrate multimedia into K-12 classrooms and instructional strategies around teaching with video production and editing software. Attendees will also learn how video can transform learning in the classroom to better understand the benefits to student outcomes as theoretical frameworks tie into practical implementation in the classroom of these projects. The webinar will also provide information on how to access activity plans and sample videos to review what was covered and to help with implementation.
Audience: Teachers, Instructional Coaches, Principals
Ryan Kochevar - Education Programs Manager, WeVideo
Ryan is WeVideo's Education Programs Manager with over a decade of experience in K-12 education. Ryan comes from both formal school settings where he taught 3rd and 4th grade as well as out-of-school, informal learning settings where he served as an after-school and summer camp instructor, programs manager, and curriculum director; designing STEAM, SEL, and Maker-Centered Learning experiences. At WeVideo, Ryan creates instructional resources, designs and leads teacher training and workshops, and provides all kinds of ideas on how to use WeVideo in the K-12 classroom that helps our users access our product more frequently and more successfully. Ryan holds a Master's degree in Curriculum, Teaching, and Learning with an emphasis in educational technologies from Sonoma State University.
Kari Smith - Customer Success Representative, WeVideo
Kari Smith is part of the WeVideo Customer Success team. Kari is a former Ed Tech Specialist, Makerspace Coordinator, and Classroom teacher with years of experience in K-12 environments. Dedicated to the meaningful integration of technology in the classroom, Kari now enjoys assisting schools and educators gain confidence using WeVideo to create, collaborate, communicate, and develop stories about the world around them. Kari holds a Master's degree in Instructional Learning Design and Technology from North Carolina State University.
Upon registration, you will then receive a Zoom meeting invite to connect to the webinar prior to the event. The session will be recorded and available for review for all registered attendees.
If you have any questions about the webinar, please email Sean McDonough at smcdonough@nyscate.org.