Curation: The Educator's Secret Weapon!
Wakelet Webinar
Join NYSCATE and our Corporate Council member Wakelet for this engaging hour-long webinar aimed at helping educators organize and find the most relevant, authoritative, and compelling content from across the web.
Discover how the simple concept of curation can transform your classroom, your teaching, and the way you organize your learning resources. See some awesome examples of curation in action, and learn how to harness the power of web content to make your school activities fun, engaging, and interactive!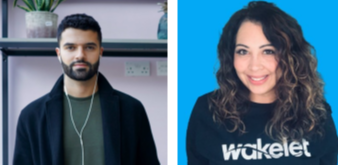 Join Misbah Gedal and Tisha Poncio of Wakelet to learn more about the free resources for educators to help curate learning!
Misbah leads Partnerships at Wakelet, a free-to-use learning platform that allows educators to engage their learning community through visual, curated multimedia.

Tisha is a Digital Learning Specialist at Wakelet. An experienced teacher from Texas, Tish helps schools across the world adopt curation as a key element of their teaching.
Audience: Teachers, Tech Coaches, Principals, Administrators, Integrators
Upon registration, you will then receive a Zoom meeting invite to connect to the webinar prior to the event. The session will be recorded and available for review for all registered attendees.
If you have any questions about the webinar, please email Sean McDonough at smcdonough@nyscate.org.