Confidence and Connection:
Supporting Students Social-Emotional Wellness
Lessonbee Webinar
Join NYSCATE Corporate Council member Lessonbee at 11 am ET on October 12 for this engaging hour-long webinar on how to support students with social-emotional wellness as we transition back to in-person learning.
The webinar will cover the effects of remote learning, why Social-Emotional Wellness & Health are important in fostering a safe and supportive return, and how Lessonbee is a great tool to build confidence and connection.
Attendees will learn about the following:
Know the effects of not being able to attend school in person.

Understand why social-emotional wellness and health are important during this transition and how to empower students to manage and nurture their health independently.

Identify ways Lessonbee will support your Social Emotional Wellness & Health initiatives.

Identify ways to foster connection and build confidence as students transition back to in-person learning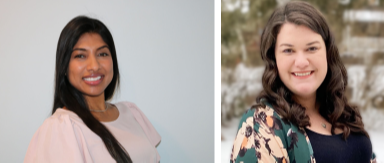 Join Lessonbee's Nadia Sobhan, Community Engagement Manager, and Molly Austin, Customer Success Manager, as they show you the best ways to add social-emotional learning to your back-to-school learning environment.
Nadia Sobhan
Nadia is the Community Engagement Manager at Lessonbee. She has an educational background in School Counseling, in which she received her masters degree from St. John's University. Nadia has spent over 10 years working with non-profit organizations to lead after school programs in NYC. Collaborating with the Department of Youth and Community Development, school administration, CBOs and students and families, Nadia has a wealth of communication and coordination skills. Along with her work in schools, Nadia has served as a reading tutor for children in pre-K through 8th grade for 10+ years. Nadia has also dabbled in event management and has a certificate in Meetings and Convention Management from NYU. Nadia is passionate about Lessonbee's mission, as she strongly believes in the importance of social-emotional health education for young people.
Molly Austin
Molly is a Customer Success Manager with a background in elementary and secondary school counseling. After spending 5 years as a school counselor providing social-emotional instruction and support to her students, Molly joined the Lessonbee team with an enthusiasm to support the mission of helping students feel confident, connected, and worthy of health and success! She is excited to be working with educators across the country during their Lessonbee onboarding process and beyond. In her free time, she enjoys traveling, gardening, and spending time outdoors. Molly is a Nationally Certified Counselor, has a Master's Degree in K-12 School Counseling, and has a Bachelor's Degree in Sociology with a minor in Psychology. She has additional training in anxiety, stress, trauma, and crisis management.
Audience: Teachers, guidance counselors, principals.
If you have any questions about the webinar, please email Sean McDonough at smcdonough@nyscate.org.