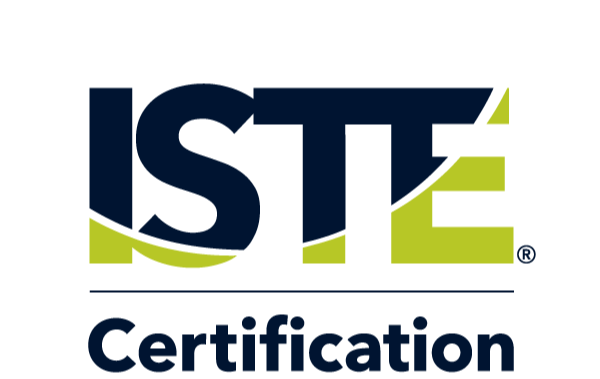 ISTE Certification for Educators
Date & Time

Location

Pricing

December 22, 2022

Start Date

4:30 pm-6:30 pm (EST)

NYSCATE Facilitators

Online platform


$699 Includes introductory class, Online class and portfolio support.
Focused on Pedagogy. Based on the ISTE Standards.
ISTE is focused on pedagogy, not tools. It's not about EdTech per se, it's about what you do with the tech to transform learning and improve student outcomes.
For Classroom Educators, Coaches and Library Media Specialists
ISTE Certification helps build a teacher's professional profile and provides a digital credential to demonstrate mastery and earn recognition for his or her work in using technology to transform learning.
For School & District Leaders
ISTE Certification provides education leaders with a way to identify a school or district's educators who are leading the way with digital age teaching practices. The certification also provides a vendor-neutral EdTech credential that can be used in staff hiring decisions.
Certification Process
Through the ISTE Certification process, educators will participate in an fourteen week blended learning cohort based on the ISTE Standards and transformative pedagogy. After completing the blended learning course, participants will have six months to apply their learning and compile artifacts and reflections into a competency-based portfolio to earn ISTE Certification. Content will be taught in the following four modules: Designing For Diversity; Personalized Learning & Alternative Assessments; Digital Learning Environments: Design Thinking & Computational Thinking; and The New Digital Citizenship.
Steps to Becoming an ISTE Certified Educator
Each session consists of one required virtual meeting followed by 8-10 hours of asynchronous coursework.
Pre-Work Session
During this Pre-Work Session, educators will build a baseline on how to navigate the overall learning experience of the course. Brightspace is the course's official Learning Management System (LMS) and educators will learn how to engage with some of its key functions. Educators will also have time to build knowledge on the overall programmatic goals while also exploring the portfolio process. ISTE's Educator Standards will also be introduced and educators will be able to begin to synthesize and internalize the meaning of the standards. Last but not least, educators will leverage their Professional Learning Community as a resource for continued development.
Session 1
ISTE strives to empower all educators with the skills necessary to advocate for equitable access while creating personalized and authentic learning experiences for all students. In this session, educators will take an active role in applying the ISTE standards by establishing personal and professional learning goals. Educators will reflect, personally and as a group, on personal strengths and weaknesses to the standards and set a shared vision. Educators will also explore personalization strategies that foster independence, accommodate learner needs, and provide alternative assessments.
Session 2:
As technology has changed the landscape for teaching and learning, educators now have an opportunity to leverage technology to close the achievement gap intentionally. During this session, educators will take a hands-on approach to designing learning experiences that meet all learners' needs. Educators will take a closer look at how important it is to help learners develop skills in identifying credible sources online and other critical digital citizenship skills. Educators will be asked to deepen their understanding of the ISTE standards by reflecting on current practice and brainstorming new strategies to deepen the practice. Educators will also be asked to re-design a lesson while leveraging the Universal Design Principles. Lastly, educators will be asked to curate and assess a list of digital tools.
Session 3
Technology has given educators an opportunity to design authentic, digital learning environments that recognize and accommodate learner variability. In this session, educators will explore digital learning environments such as online or blended learning models and lift up best practices within each model. Equitable access for all learners has been an ongoing issue before advancements in technology. However, as we have seen districts move to provide digital access to all students, certain learner profiles are still not equitably supported or resourced. Educators will identify a digital access issue within their district/school and leverage the Computational Thinking/Design Thinking process to advocate equitable access.
Session 4
As technology can be used as a resource in closing the achievement gap, equitable access to digital tools and resources has become a concern. In this session, educators will be provided time to design their advocating for equitable access project. Educators were tasked with identifying a digital access issue within their district or school and leverage the Design Thinking process to address the issue. In real-time, educators are sharpening their leadership skills to address an authentic issue, learning the CT/DT process while demonstrating knowledge of ISTE standards in practice. We expect educators to integrate multiple standards as they complete this project. Educators are encouraged to independently select standards and explain how they met them.
Session 5
In preparation for your portfolio submission, this session will be dedicated to helping you to better understand the portfolio submission space, identifying and preparing artifacts for submission, and soliciting feedback on a set artifacts.
Prework begins December 22, 2021.
Virtual Session 1: January 12, 2023; 4:30 PM - 6:30 pm EST.
Asynchronous work January 12 - February 2, 2023
Virtual Session 2: February 2, 2023; 4:30-6:30 pm EST.
Asynchronous work February 3 - February 16, 2023
Virtual Session 3: February 16, 2023; 4:30 - 6:30pm EST.
Asynchronous work February 17 - March 2, 2023
Virtual Session 4: March 2, 2023; 4:30 - 6:30pm EST.
Asynchronous work March 3, 2023- March 16, 2023
Virtual Session 5: March 16, 2023; 4:30 - 6:30 pm EST.
Portfolio Due: September 2023