Growing With Canvas: Our District's Journey
Instructure Webinar
Join NYSCATE Corporate Council member Instructure at 11 am ET on February 2, 2022, for this engaging hour-long webinar on how one NY school district is using Canvas from Instructure.
Implementing an LMS takes effort and energy to get buy-in across the district. One way to increase support is to ensure you invest in a tool that works for your administrators, staff, teachers, students, and families, and can support your district initiatives and strategic vision.
Learn why the Kenmore-Tonawanda UFSD switched to Canvas LMS, and how we use Canvas and other offerings in the Instructure Learning Platform to support blended learning, personalized instruction, assessment, and differentiation. We'll also discuss how we use Canvas to engage students in virtual book clubs, share important information with teachers about tech tools, and provide professional development to our staff and teachers.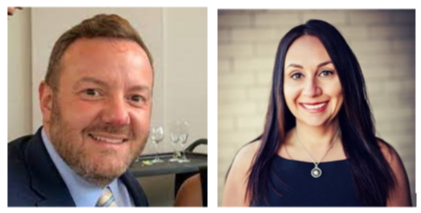 Join Phil Jarosz and Joi Chimera, Instructional Innovation Support Specialists at Ken-Ton, as they share how they have successfully utilized Canvas in their district to enhance learning for students and staff. Brianna Caruccio, Account Executive at Instructure, will moderate this discussion with Phil and Joi.
Philip Jarosz has been an educator in the Kenmore-Town of Tonawanda School district for over 20 years and currently serves as an Instructional Innovation Support Specialist. Phil provides job-embedded, personalized support to teachers and staff to expand technology integration in classrooms across the district. He also serves as the Infinite Campus liaison providing data and student information system support. Phil is an ISTE Certified Educator, a Canvas Certified Educator, and the WNY Regional Director on the board of directors of NYSCATE.
Joi Chimera is a 20+ year educator currently serving as a Secondary Technology Integration Specialist for the Kenmore-Town of Tonawanda school district in Western New York. She is an ISTE Certified Educator, Canvas Certified Educator, and Google Certified Educator I & II. Joi provides job-embedded, in-class professional development for teachers to assist them as they expand their technology integration with their students. She delivers professional development on a district level for staff development days, as well as through the Kenmore Staff Development Center (both in-person and online). Joi is a member of NYSCATE and ISTE.
Brianna Caruccio has been at Instructure since 2019, supporting K12 districts and organizations throughout New England and New York as they consider a Learning Management System like Canvas. Although she resides in Salt Lake City, Utah, she is from New Hampshire and her roots are in New England. Prior to Instructure, she worked at a private school in the San Francisco Bay Area and a non-profit and rural school in Uganda. She has learned that each school has its unique challenges and that the landscape of education is constantly evolving. She is passionate about exploring the ways educational technology can meet some of these challenges by supporting equitable access, simplifying communication, and offering meaningful engagement for students, teachers and families.
Audience:
Administrators and K-12 education leaders

Superintendents, IT Directors, Assistant Superintendents, District Administrators, Curriculum Directors, Chief Academic Officers, Assessment Directors
If you have any questions about the webinar, please email Sean McDonough at smcdonough@nyscate.org.