News you can use from our Corporate Council member ClearTouch.
Clear Touch wins Best of Show and announces new Clear Power charging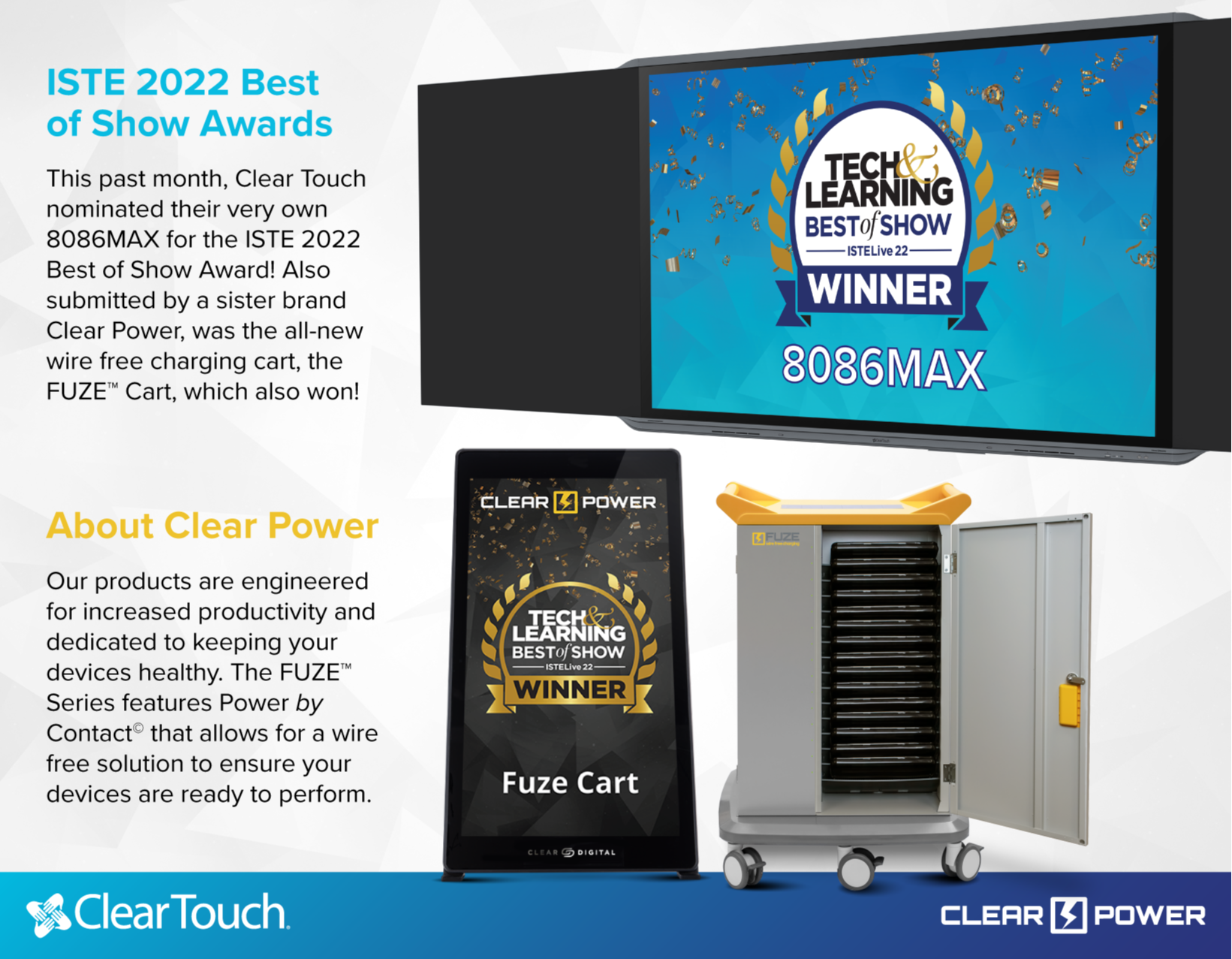 8086MAX
The first interactive panel with blackboard wings! The Winner of the ISTE and Infocomm Best of Show Award 2022! Meet the 8086MAX. Instruct on the largest stage with a 4K Ultra HD integrated display. The most powerful blackboard learning tool on the market, the 8086MAX sets a new bar for instructional writing and classroom communication. The MAX gives you an interactive panel that can cater to the more traditional instructional methods of the past while still offering the latest technology on the market. The MAX is the ideal tool for the lecture hall, large classroom, or meeting space. Learn more here!
Clear Digital
The affiliate company of Clear Touch which specializes in digital signage solutions. Our products range from unique mobile digital signage to massive video walls. All of our devices come integrated with an advanced software suite and media player. Our newest releases include the Tok Digital Podium and the Nio, commercial grade digital signage. Learn more here!
Clear Power
An energizing new sister brand dedicated to providing clean and efficient power to workspaces and classrooms, Clear Power. Our wire free charging products serve to maximize your device management setup. Our smart charging and Power by Contact™ technology is engineered for increased productivity and longevity, our newest line of products will keep all devices running at maximum speed and health. We serve to create charging solutions that eliminate wires and streamline productivity. Our new FUZE series offers a catalog of options that can keep all your laptops and devices safe, charged, and organized. Learn more here!
Awards
It has been quite the month in the award department. Clear Touch has taken home numerous honors this quarter from Tech & Learning, Edtech Breakthrough, and Deloitte. We took home Best of Show Awards at both Infocomm and ISTE for the 8086MAX and Fuze Cart. Winning these awards for two of our newer products was important for our development and getting these new devices out into the world. Learn more here!
Professional Development
We want to give you the knowledge and tools to succeed. Clear Touch offers numerous professional development opportunities with special benefits. We offer a Virtual Trainer Certification course that will reward you with an interactive panel and bundle of accessories. We also offer graduate credits through our newest course, Clear Touch Foundations. An exciting, new, professional development opportunity for anyone looking to master their district's Clear Touch technology, Clear Touch Foundations is an amazing opportunity for those looking to master their technology. We offer an online program led by a former educator that will allow you to become an invaluable asset to your district or organization while earning 1 graduate credit. Learn more here!
We design interactive technology that overcomes challenges in education and business. Our products and integrated software offer the opportunity to provide a hands-on learning experience for all. See what is new this spring!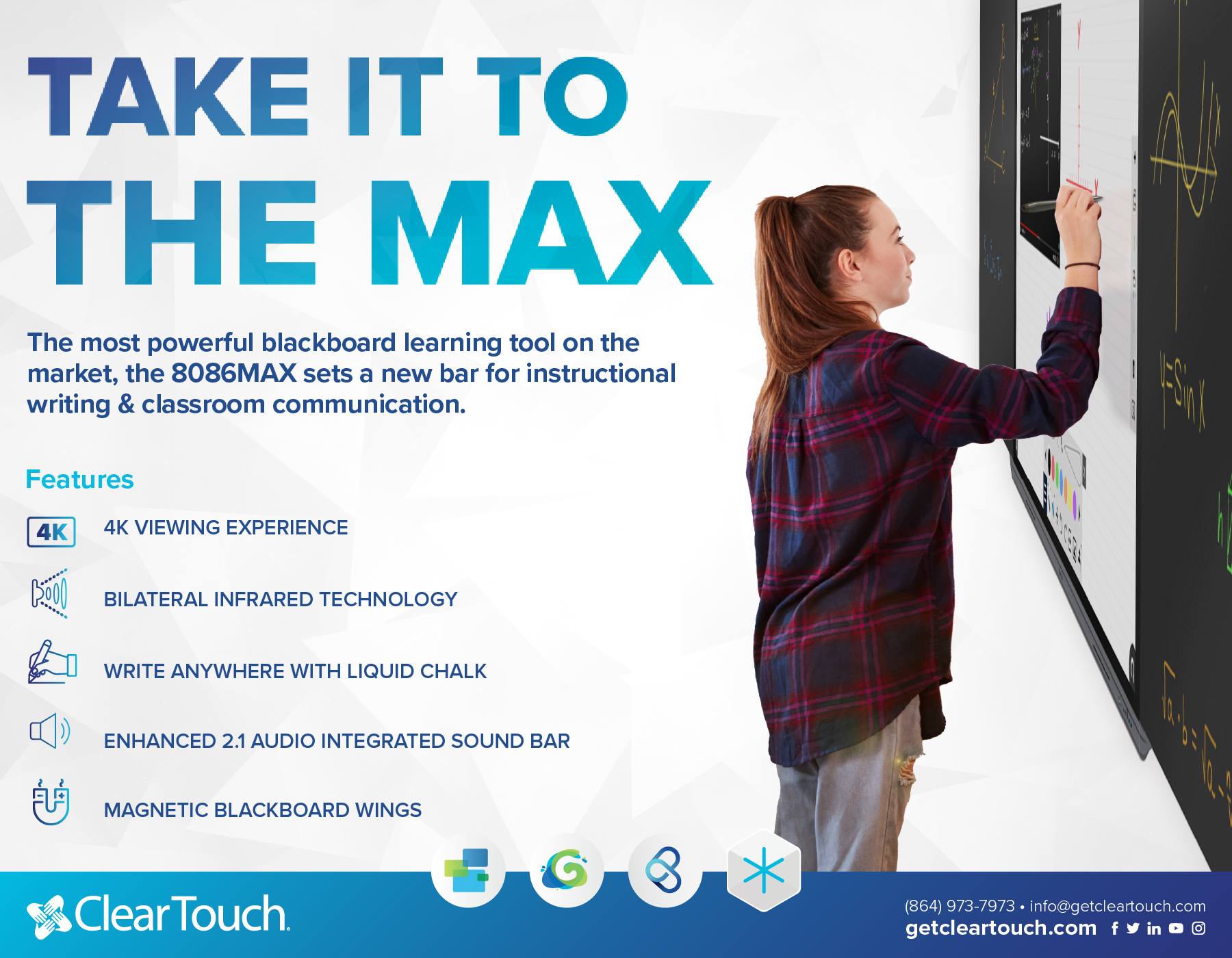 K+ Panel
6000K+ - Meet the 6000K+ series panel! The fastest of its kind, this panel is the perfect solution for educators looking to boost engagement among students. A software optimized device that features stunning 4K resolution.
XE Panel
7000XE - An interactive panel that defines versatility. A panel that is programmed for intelligence with a cutting-edge software suite to support it, from connecting multiple users to troubleshooting IT issues remotely, users can create a versatile digital ecosystem to take collaboration to a whole new level. Pairs perfectly with the Convertible Mobile Stand.
CT Software
Canvas - An infinite whiteboard with unlimited space and unlimited possibilities. Entirely versatile, Canvas supports videos, pictures, flash games, notes, and more. Canvas gives you the flexibility to add multi-media into a single workspace.
Collage - A free to use and highly effective software application that breeds collaboration. Create lesson notes on-screen, control applications with ease, and stream video from up to nine connected devices!
Command - A cloud-based remote management tool that allows administrators to seamlessly access, monitor, and control their Clear Touch interactive flat panels using any web-connected device. Clear Touch gives administrators the tools they need to customize and optimize their lesson plans and workspaces.
Snowflake - Snowflake comes equipped with a variety of pre-built applications, including YouTube, an infinite Canvas whiteboard, and educational games that can be used in a variety of ways in class. Split the screen in up to four zones taking everything to a whole new level by allowing you to design lessons specifically for a touchscreen panel in tabletop mode.
Case Study Videos
We believe that our products are the most innovative, reliable, and effective on the market. But why listen to us? Here is what some school districts had to say about their Clear Touch experience.
● Florida Institute of Technology
Additional Information