News you can use from our Corporate Council member ClearTouch.
We design interactive technology that overcomes challenges in education and business. Our products and integrated software offer the opportunity to provide a hands-on learning experience for all. See what is new this spring!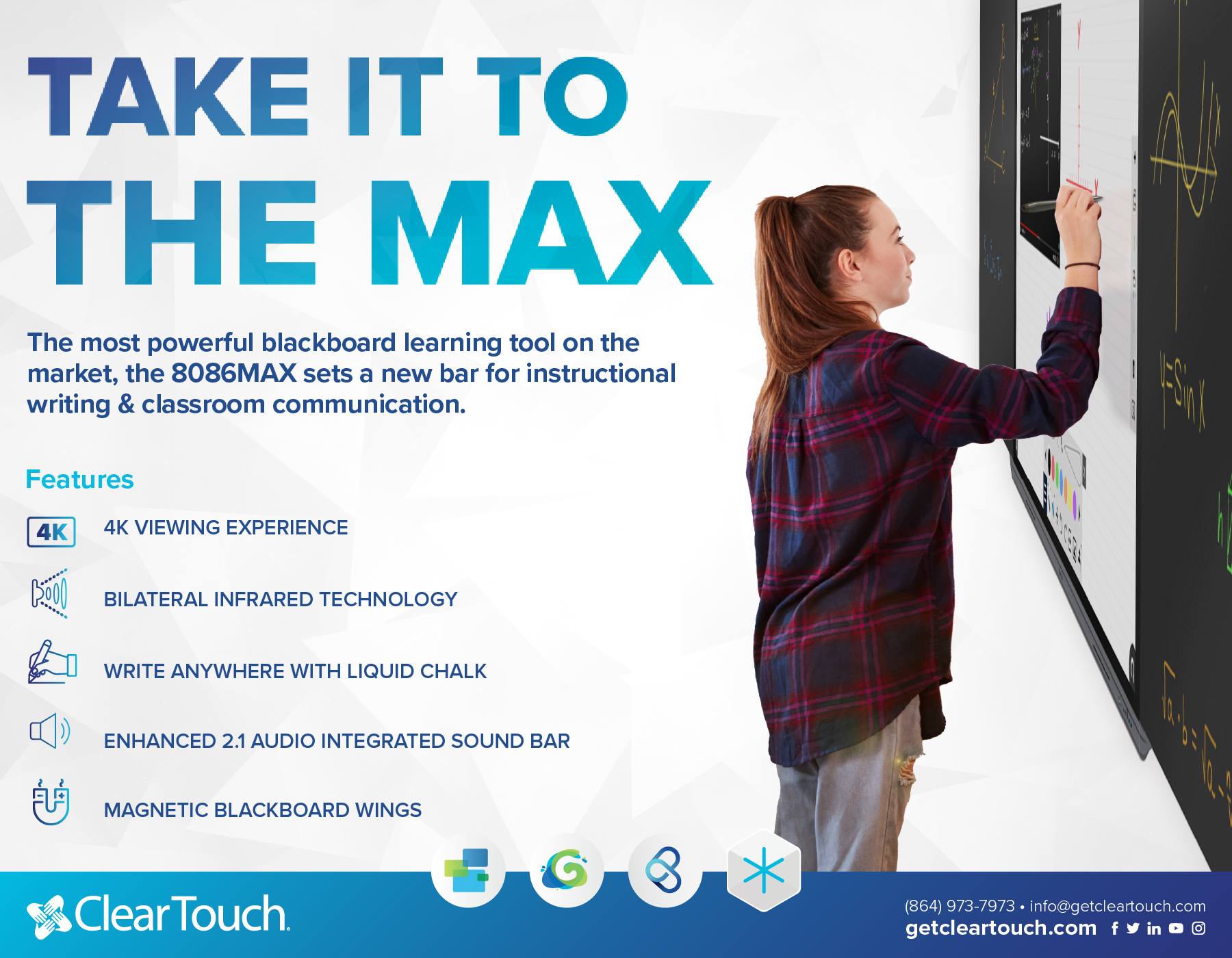 K+ Panel
6000K+ - Meet the 6000K+ series panel! The fastest of its kind, this panel is the perfect solution for educators looking to boost engagement among students. A software optimized device that features stunning 4K resolution.
XE Panel
7000XE - An interactive panel that defines versatility. A panel that is programmed for intelligence with a cutting-edge software suite to support it, from connecting multiple users to troubleshooting IT issues remotely, users can create a versatile digital ecosystem to take collaboration to a whole new level. Pairs perfectly with the Convertible Mobile Stand.
CT Software
Canvas - An infinite whiteboard with unlimited space and unlimited possibilities. Entirely versatile, Canvas supports videos, pictures, flash games, notes, and more. Canvas gives you the flexibility to add multi-media into a single workspace.
Collage - A free to use and highly effective software application that breeds collaboration. Create lesson notes on-screen, control applications with ease, and stream video from up to nine connected devices!
Command - A cloud-based remote management tool that allows administrators to seamlessly access, monitor, and control their Clear Touch interactive flat panels using any web-connected device. Clear Touch gives administrators the tools they need to customize and optimize their lesson plans and workspaces.
Snowflake - Snowflake comes equipped with a variety of pre-built applications, including YouTube, an infinite Canvas whiteboard, and educational games that can be used in a variety of ways in class. Split the screen in up to four zones taking everything to a whole new level by allowing you to design lessons specifically for a touchscreen panel in tabletop mode.
Case Study Videos
We believe that our products are the most innovative, reliable, and effective on the market. But why listen to us? Here is what some school districts had to say about their Clear Touch experience.
● Florida Institute of Technology
Additional Information