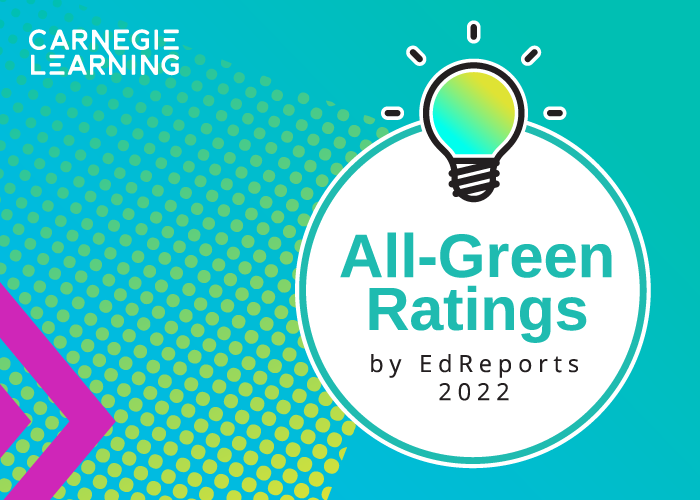 Carnegie Learning Middle School Math Solutions Attains Perfect Score!
A Perfect Math Solution
When it comes to math solutions, don't settle for anything less than perfect.
Your teachers and students deserve the highest-quality instructional materials, and you can feel confident in ours. EdReports.org just gave our Middle School Math Solution perfect scores in all three evaluation gateways. Add the fact that our secondary math solutions align with New York State Next Generation Math Standards, and you'll be set up for success.
NYSCATE Welcomes Carnegie Learning to Corporate Council
NYSCATE is proud to announce that Carnegie Learning has become the newest member of our Corporate Council.
Carnegie Learning is shaping the future of education. Born from more than 30 years of learning science research at Carnegie Mellon University, the company has become a recognized leader in the ed tech space, using artificial intelligence, formative assessment, and adaptive learning to deliver groundbreaking solutions to education's toughest challenges. With the highest quality offerings for K-12 math, ELA, literacy, world languages, professional learning and more, Carnegie Learning is changing the way we think about education, and creating powerful results for teachers and students alike.
Western NY Team
Michael Phelps
Account Executive
616.350.6213
Tony DePalma
Account Manager
724.263.8547
BOCES Covered:
§ Cayuga-Onondaga BOCES
§ CNYRIC (OCM BOCES)
§ Erie 1 BOCES
§ Greater Southern Tier BOCES
§ Monroe 1 BOCES
§ Monroe 2 BOCES
§ CITI-Oswego BOCES
§ TST BOCES
§ Wayne Finger Lakes BOCES
Eastern NY Team
Renee LeBlond
Account Executive
rleblond@carnegielearning.com
P: (412) 758-0118
Keri Travis
Account Executive
C: (618) 606-5153
BOCES COVERED:
NY CITY and
§ Broome-Tioga BOCES
§ Capital Region BOCES - NERIC
§ Delaware-Chenango-Madison-Otsego
§ Dutchess BOCES
§ Eastern Suffolk BOCES
§ LHRIC (Southern Westchester BOCES)
§ Mohawk RIC
§ Nassau BOCES
§ Oneida-Herkimer-Madison BOCES
§ Orange Ulster BOCES
§ ONC BOCES
§ Questar BOCES
§ Putnam/Northern Westchester BOCES
§ Rockland BOCES
§ St. Lawrence BOCES
§ Sullivan County BOCES
§ Ulster BOCES
§ Washington-Warren-Essex BOCES
§ Western Suffolk BOCES