Plan > Pinpoint > Build:
A Proactive Approach to Improving Cybersecurity Posture
in Digitally Responsive Educational Organizations
Join NYSCATE Corporate Council member Bluum for this highly topical session on building a responsive organizational culture to safely deal with cybersecurity.
Digitally responsive educational organizations are poised to respond to the pedagogical, technological, and organizational needs of the learning community. Cybersecurity is an essential component of this response. Appropriate cybersecurity policies, procedures, and practices help ensure teachers, staff and students have the access and resources they need while maintaining the privacy and security of data and networks. They also help demonstrate that cybersecurity is not just an IT problem, but rather that shared ownership and accountability need to be established for all stakeholders.
Organizations that follow these three steps are better protected against potential threats and more prepared to take action:
PLAN processes and practices

PINPOINT vulnerabilities

BUILD path to improve cybersecurity posture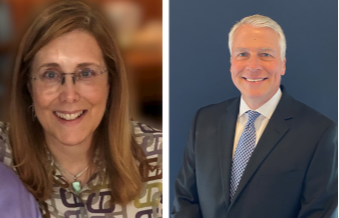 Join Dr. Andrea Tejedor and Gregory Reitz of Bluum as we learn one approach to contingency management to improve the district's cybersecurity maturity and effectiveness as well as identify the stakeholders for your cyber governance team. We will also review the key activities related to contingency management and planning for incident response, disaster recovery, and business continuity including staffing, financial allocation, documentation standards, and metrics. We will review different ways to track your cybersecurity projects and define program success metrics and engage in continuous education regarding cybersecurity best practices and challenges.
Audience: Technology Directors / CTOs, DPOs, Business Officials, Superintendents, District Leaders
Dr. Andrea Tejedor
Andrea is an educational technology steward, supporting K-16 educators in making a strategic shift to leverage instructional technologies for student learning and teacher professional growth. With over 20 years of experience in public education, Dr. Tejedor retired as the Assistant Superintendent for Curriculum, Instruction & Technology at the Highland Falls-Fort Montgomery CSD. Today, as an Educational Consultant for Bluum, she is supporting school districts around the country to identify best practices for digitally responsive educational organizations, design impactful solutions for instructional technology-supported learning, and empower all stakeholders to have a voice in the process. She has an MEd in Elementary Education from Mount Saint Mary College, an MA in Instructional Design and Technology, and an Ed.D. in Education Leadership, Management, and Policy from Seton Hall University. As an educator, researcher, and consultant her work focuses on visioning and leadership in the education and technology arenas.
Greg Reitz
Greg is a Security Practice Leader within the Advisory Services Team for Bluum. In this role, Greg brings over 35 years of strategic technology and cyber security experiences, with competencies developed and matured within multiple industry verticals for organizations with both domestic and global locations. Starting in 2020, he has focused primarily on cybersecurity services designed and delivered to K-12 districts (and supporting educational partners) to help them build policy, procedures, and practices to better their cyber security maturity and manage down cyber-related risks. From a security framework perspective and specific to industry segments, Greg has practical experiences with risk profiles, assessments, remediation actions, and governance responsibilities associated with the application of ISO, NIST, or CMMC frameworks across the following verticals: K-12 Education, Higher Education, Electrical Utility, Discrete Manufacturing, Process Manufacturing, and Automotive."
Upon registration, you will then receive a Zoom meeting invite to connect to the webinar prior to the event. The session will be recorded and available for review for all registered attendees.
If you have any questions about the webinar, please email Sean McDonough at smcdonough@nyscate.org.