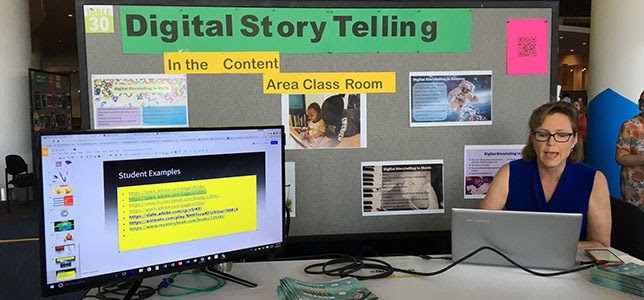 2021 Live Poster Sessions
Monday, November 22, 2021
8am-9am
VR, AR & XR Can Support Students With Special Needs
This presentation will discuss the different types of virtual reality that exist, briefly. The presentations main focus will be applying virtual reality and personalized learning to support students with special needs students. We will discuss safe spaces and overcoming physical limitations.
Daniel A. Sabol - City of Yonkers Public Schools
What is Minecraft doing in my classroom?
Do you wonder what Minecraft is doing in school? Wonder what role it could play in your classroom? We start with those questions and give you a chance to try it out. Learn some strategies for incorporating Minecraft Education Edition for instruction. M:EE is a fully immersive, highly engaging (did somebody say addictive?) platform for teaching literally ANYTHING. Yes, it will take practice, but there are ways to use M:EE educationally without (or before) you becoming an expert. We'll show you ready made resources as well as ways to quickly create worlds that incorporate any content for any age students. Come Play, Craft, Learn with us!
Matthew J Nickerson - Anne Arundel County Public
Stop Motion Animation Across Content Areas
Stop motion animation is a fun, engaging way for students to share their ideas and demonstrate their learning across all content areas. And it's easier than you probably think it is!
Heather Bermingham - Lockport City Schools
11am-12pm
Rubik's Cubes to Build Community
With the resources from this grant Lancaster High School students will be able to learn to master The Rubik's Cube. They will learn to work in in-person and online groups to support, problem solve, design, and teach others to also solve the cube. With 43,252,003,274,489,856,000 (forty-three quintillion, two hundred fifty-two quadrillion, three trillion, two hundred seventy-four billion, four hundred eighty-nine million, eight hundred fifty-six thousand) different combinations, no matter how a Rubik's Cube is arranged, it can be solved in 20 moves or less. Using hands-on learning, promoting teamwork, and ending in a product to be proud of Rubik's Cubes can be used to facilitate camaraderie, teach focus, following directions, memorization, sequencing, problem solving, critical thinking, and perseverance.
Amy Balling - 2021 Grant Winner! - Lancaster High School
Starting an ESports Program
Talk to Matt Robinson, Asst. Principal at Troy High School, about his experience starting an ESports program.
Matthew Robinson, Troy High School
1pm-12pm
Let's Explore at Recess! Building an Exploratory Program for SEL
Learn how a small group of students pulled for exploratory sessions can build SEL, teamwork and collaboration using a variety of hands on activities.
Kristen Magyar - HFFMCSD
Our Journey to ISTE Certification
We will share our personal journey through ISTE Certification. This includes our initial decision to get certified, our in-person training and portfolio, and finally what our life has been like since! If you're on the fence about whether or not to get certified, come chat with us!
Lancy Collins - Homer CSD; Jennifer Wall - Solvay CSD
2:30pm-3:30pm
Color Your School Green Program
Giuliana Pietrantoni - NYSCATE; Brady - Climate Solutions Accelerator of Genesee-Fingerlakes Region