February: Anticipated vacancies are announced to the membership. The Nominating Committee is formed with at least 3 non-board members and one board member to act in an advisory capacity. The main responsibility of the Nominating Committee is to put together a slate of candidates at least equal to the number of vacant positions. The candidate application is posted on the NYSCATE website.
March 15: Applications are due by no later than March 15.
May 1: Nominating Committee Chair informs the applicants of the accepted slate of candidates.
May 15 -May 31: Electronic voting takes place by all NYSCATE members.
June: Election results are announced during the Board of Directors Annual Meeting and to the membership following the annual meeting.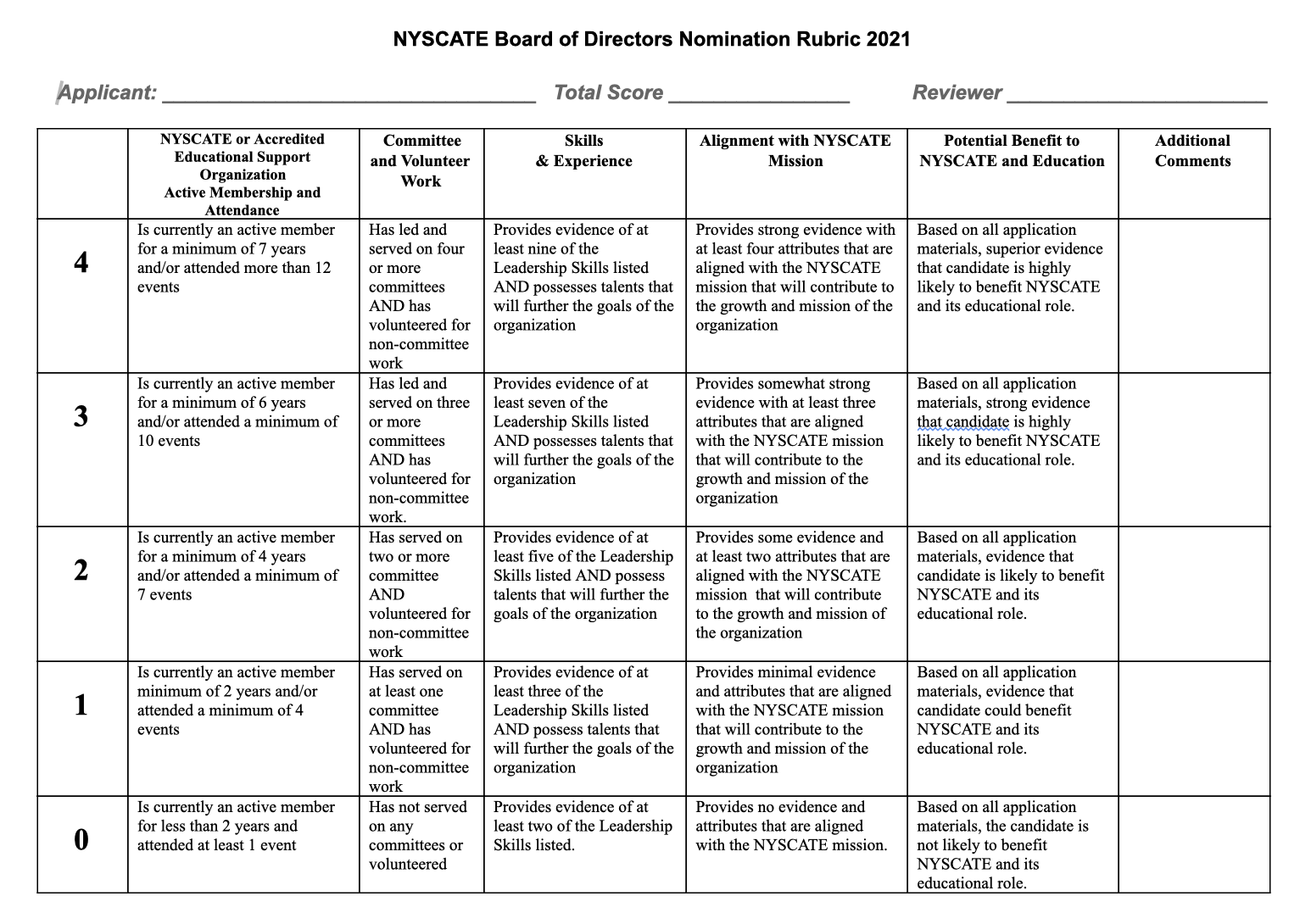 Desired Leadership Skills
_____Demonstrates ability to influence and lead others.

_____Maintains a strong knowledge base in educational technology for students, teachers, and administrators.

_____Fosters technology integration regularly into instructional or professional practice.

_____Delivers presentations, media responses or authored articles about technology, integration, curriculum, pedagogy and/or assessment.

_____Promotes the ethical use of technology in education.

_____Fosters professional development for others and shows evidence of his/her own continued growth.

_____Articulates a vision of how technology impacts curriculum, instruction and assessment.

_____Demonstrates experience in planning and implementing new practices.

_____Demonstrated leadership in facilitating a large scale educational technology program(s) or project(s).

_____Currently holds a leadership position in an organization.

_____Promotes an environment where technology is valued and considered integral to teaching and learning.

_____Uses social media and related tools for their own professional growth.